A Whole New Mind
: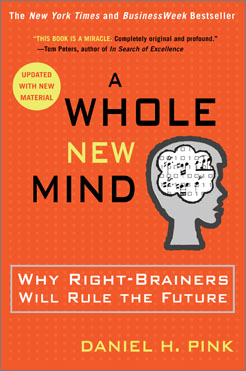 Amazing book, especially if you're in any sort of career field that is constantly changing things up or looking for a new way to approach your product or service (like, say, in education). It focuses on several different areas where people will need to be able to excel in a new global job market. Super interesting.
The Graveyard Book
:
A young adult novel about a boy who is raised in a graveyard by ghosts and other supernatural beings. It's by Neil Gaiman who wrote
Stardust
and
Coraline
, both of which have been made into movies. The beginning is super depressing (especially if you're a parent), but the story is well written and interesting. I'm also fairly certain there will be a sequel.
Dead Until Dark
:
If you've watched True Blood on HBO and loved it then you'll probably love this book. It's the first in the Sookie Stackhouse series (so, True Blood is based on these books, and
Dead Until Dawn
is basically the first season of the T.V. show in book form) and while I wasn't so sure about the writing at first, I was completely won over. Even if you haven't seen the show, if you're looking for a good vampire/romance book to take to the beach this summer, and you're not a Twilight
loser
fan, then this would be the book to grab.
Happy reading!